Ultimate Windshield
Coating Lexington NC
FULLY WARRANTIED CARBON NANOTUBE WINDSHIELD COATING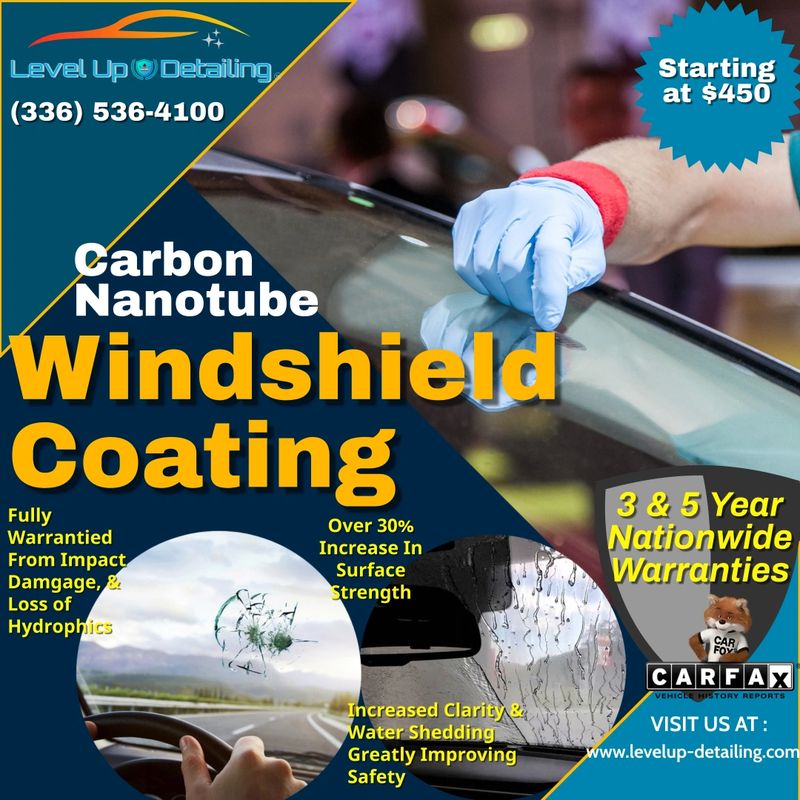 How Does it Work?
 We utilize a cutting edge dual layer carbon nanotube which will increase the surface strength of the windshield over 30%. The windshield coating Lexington NC will demonstrate extreme hydrophobic characteristics along with increase clarity while driving in inclement weather or at night greatly improving safety margins. Fully warrantied against chips or cracks or coating failure with zero deductible or hidden fees. Contact us now!
Luxury Models
Vehicles of the following makes, which are subject to a maximum aggregate benefit of $5,000.00 over the term of the warranty: Acura, Audi, BMW, Cadillac, Hummer, Infiniti, Jaguar, Land Rover, Lexus, Mercedes, Porsche, Saab, VW, and any vehicle with an original MSRP in excess of $150,000.00   
Standard Models
 Standard Vehicles: All other vehicles, regardless of age, except for those vehicles excluded below. Standard vehicles are subject to a maximum aggregate warranty benefit of $2,500.00 over the life of the warranty.  
What's Covered?
Our Windshield Coating Lexington NC Packages
Click on the appropriate warranty term and category for your vehicle to book your service appointment
What our customers are saying
Christa Perdue
2022-06-14
WOW!!! Our car turned out amazing. Really makes the paint "pop". We are so pleased with the 5 year warrantied ceramic coating. We took advantage of the June glass special. Mike is a great communicator especially when you have a lot of questions. Top notch after care videos and product recommendations. Highly recommend for all your car care needs.
Wow, thanks Mike! Looks brand new again! 👊🏼 Honestly, the only way I could be happier is if I had done it sooner. This was my first ceramic coating. It definitely exceeded my expectations. I had a fear the interior leather might look shiny or like a 50's sofa with plastic covers, or the carpet might feel "crunchy, or that exterior flaws might forever be entombed in clear ceramic. The leather and carpet look and feel completely natural. And, the exterior couldn't look better. This is a long-term investment that will pay for itself in reduced time and cost for maintenance…and will preserve the value of the car...and look better in the meantime. Highly recommend! 👊🏼
Lindsay Lockhart
2022-05-25
Thank you Level Up Detailing for the amazing work you did. My 2015 Corvette Stingray Z51 looks absolutely beautiful now with the 3yr Ceramic Coating you applied. Mike (the owner) at Level Up Detailing was very friendly, courteous and professional. I highly recommend having your vehicle detailed and/or ceramic coated here.
Nicholas Hutchens
2022-04-28
I had my 2021 Hyundai Elantra, black in color, detailed and ceramic coated. The before and after was amazing, it looked like an even newer car and i would highly recommend to anyone. Owner is friendly and explained any questions i had.
Ryan Cunningham
2022-04-27
Had Level Up Detailing apply the 7 year ceramic coating on our black 22 Yukon. Extremely professional and excellent quality. It looks better than when it was picked up from dealership brand new.
Wendy Gallimore
2022-04-17
OMG! 😲 I just picked up my car and I cannot believe how great it looks!! It is so shiny and smooth My 20 year old Lexus SC430 is looking better than ever! The following services were done and I couldn't be happier: ✅ 7 YR dual layer warrantied ceramic coating ✅ Glass coating add-on ✅ Headlight restoration ✅ Ultimate Interior Detail I was also able to purchase some products that will maintain the beauty of my car. Very knowledgeable about car care and great attention to details!! Highly recommend their services!!
Del Carlos Harrington
2022-04-14
Very satisfied, best money I've spent on detailing… I would highly recommend Level-up Detailing for any of your detailing needs… I took my brand new 2022 Genesis G80 in for a Ceramic Coating and could not have been more surprised and happy with the results, plus learned so much at the same time, Mike was super nice and informative and showed a level of care that was seriously top tier… the black paint on my new Genesis looks 10 times better and rich in color… I could immediately tell the difference from showroom finish to Level-up Detailing, night and day, love it, thanks guys for making my dollar well spent …
Norman Cooling
2022-04-10
I had a ceramic coating applied to my new MB E450. Michael and his team did an amazing job. The coating came with a seven year warranty. Michael went out of his way not only to answer a ton of questions I had, but also to provide additional information about the process and how to care for the car's paint in the long term. The car looks fantastic and I would recommend Michael and the Level Up Detailing team to anyone seeking to protect the paint on their car long term.